My month with SBS - August 2018
10 September, 2018.

Stewart Bloor
Field Tester
I like the days that I can work from home, apart from the fact that I have a three hour advantage because no travelling is involved, it's easier to fit in an evening angling session. I also wanted to get a tench session in before the summer was over.
Following on from the recent trip to Kinver Freeliners' Dudmaston Big Pool that featured in last month's blog entry, I decided that more of the same was the way to go. After all, you can never have too much of a good thing and as far as angling is concerned, that is definitely true.
There are no day tickets on the venue and the club, which is very well-run and has some excellent waters, has a waiting list for membership. If you're in the Shropshire area of England though, it's definitely worth getting your name down. You can visit the website HERE.
Arriving on the car park to find just one other car, I knew that I would be, at the very worst, setting up in my second choice swim. As it was, I was able to drop in my chosen peg. I don't know if you're like me but part of my pre-session planning involves picking a number of spots, in order, to fish.
I fished with SBS Baits corn-shaped poppers over real corn. I also fished with a quiver tip rod and the line on the reel was 8lb Sufix Synergy. You can see the rig in the accompanying image. Simple but effective.
I really enjoyed the evening. Fishing is very important to me, not only because I enjoy it of course, but it's also there to act as a check in my life. I'm very busy but if I can't go fishing then I'm too busy. It really is as simple as that.
I enjoy my work in football, which takes up a lot of my time. Now that my European adventures are over for another season at least, with the champions of Wales (The New Saints FC) I am looking to get some carp and barbel sessions in. Football and fishing, not a bad life is it really.
The rig - simple but effective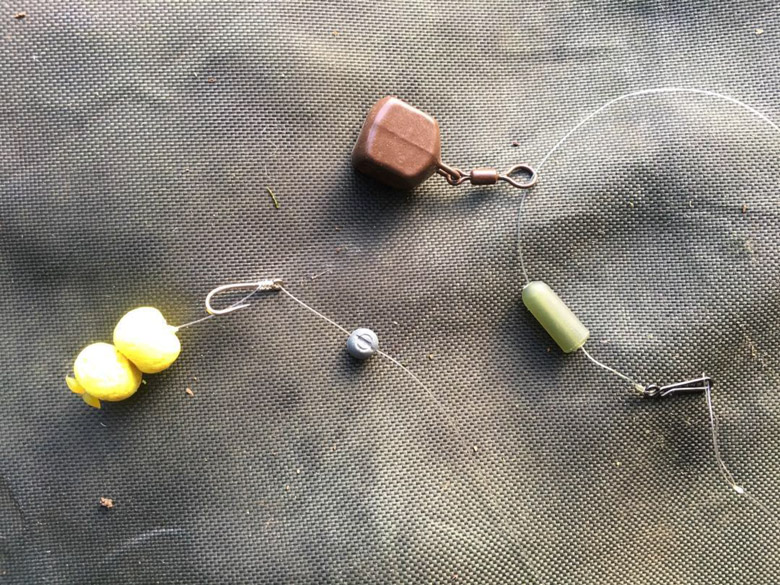 The rig - simple but effective
The lake is weedy in places, why I went for 8lb mainline
The lake is weedy in places, why I went for 8lb mainline