My month with SBS - June 2019
24 June, 2019.

Stewart Bloor
Field Tester
As an all-rounder, I fish for a variety of species on numerous different venues, using several bait and tackle approaches. In this month's column, I headed for a traditional English estate lake to target tench.
There is something quintessentially English about that type of venue, especially in the summer with the sun high and bright in the sky and the sound of nature buzzing all around.
Obviously, I didn't set up in the middle of the day for my session, instead choosing to fish late afternoon / early evening. Non-anglers will often comment about a lovely day being great for fishing.
Well, while it might be nice for us to sit out in bright sunshine, it's not necessarily the time when the fish will be feeding. On this occasion though, I got the best of both worlds as I caught well in very pleasant conditions.
There is an accompanying video that you can watch below which goes through the tackle, and why I chose that set-up in particular. As far as the business end was concerned, I fished with an SBS corn-shaped boilie, hair-rigged to a size 10 hook.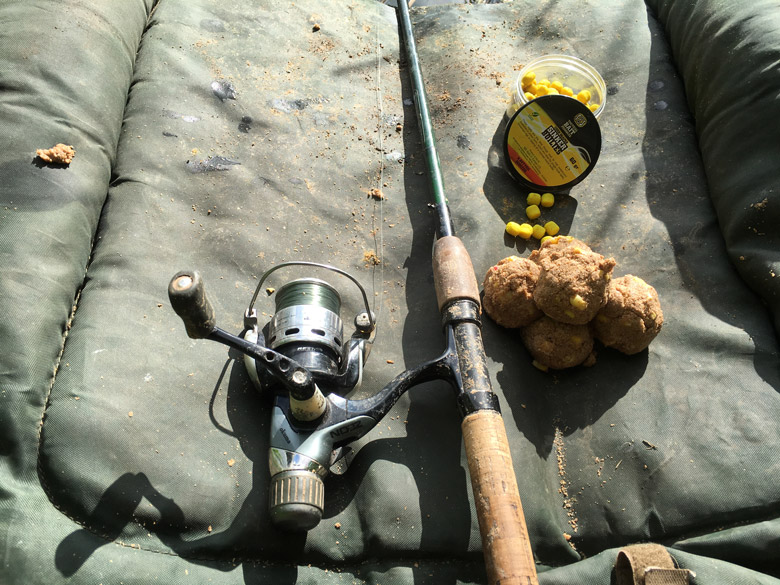 Fished over sweetcorn and brown crumb, the boilie is ideal because it evades the attention of the masses of small roach and rudd that very often reduce real corn to a shell within minutes of casting out.
I really enjoyed the session, and as I've said so many times, that's what fishing is all about. It doesn't matter whether you're a hard-core carp angler spending numerous nights on a huge water after one specific fish, or a pleasure angler on a small pond with a pint of maggots catching tiny perch, if you're not enjoying it, there's something wrong.